Chateau Kirwan Margaux Third Growth, Bordeaux wine producer profile, with wine tasting notes, wine ratings, a history of the property, information on wine making and terroir, along with wine tasting reviews. If you want to read about other important, Bordeaux Chateaux: Links to all Bordeaux Wine Producer Profiles
In 1710, Chateau Kirwan was bought by Sir John Collingwood. Collingwood was a known a merchant in the Bordeaux wine trade. The daughter of Collingwood married Mark Kirwan. At that point in time, both she and the Margaux property took on a new name.
Chateau Kirwan was one of the few Medoc properties that Thomas Jefferson, the Ambassador to France and the future third president of the United States visited on his Bordeaux wine tasting trip. We know this based on the personal records and diaries of Thomas Jefferson, written in 1780. Mark Kirwan passed away in 1815. The title was given to Camille Godard who was later elected Mayor of Bordeaux. In 1882 Godard gifted Chateau Kirwan to the city of Bordeaux.
Jumping ahead a century or so, after a long period when Chateau Kirwan was not known for producing the quality of wine the Left Bank estate was able to produce, the management hired Michel Rolland to consult the estate starting in 1991. Aside from tasting the wine and visiting the beautiful grounds, one of the unique features of visiting the estate is the tasting room. Located upstairs, with couches, chairs and coffee tables, it feels like you're sitting in a friends living room, while tasting the wines instead of a grand chateau in the Medoc. It's really quite charming.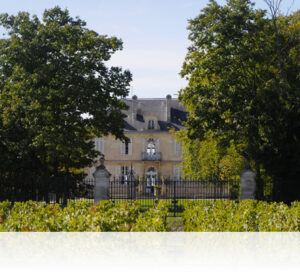 The 35 hectare Bordeaux wine vineyard of Chateau Kirwan is planted to 40% Cabernet Sauvignon, 20% Cabernet Franc, 30% Merlot and 10% Petit Verdot planted on gravel and sand soils. On average, the vines are close to 30 years of age. The vineyard is planted to a vine density of 8,000 vines per hectare. The wine of Chateau Kirwan is vinified in stainless steel vats. Malolactic fermentation takes place in vat. The wine is aged in 33% new French oak barrels for between 16 and 18 months, depending on the vintage. Since 1993, the property started producing a second wine, Les Charmes de Kirwan. The estate releases close to 16,000 cases a year of Chateau Kirwan.
Wine Tasting Notes
Displaying 8 vintages | 35150 Views Sorted by vintage
2011 Château Kirwan

From 53% Cabernet Sauvignon, 21% Merlot, 15% Cabernet Franc and 9% Petit Verdot, reaching 13.4% alcohol, the wine will see aging in 45% new oak. Coffee, black cherry, and licorice with medium body and fresh, ripe cherry, coffee and bitter chocolate in the finish. 89-90 Pts

89

points - Tasted

Apr 19, 2012

1423 Views

2010 Château Kirwan

Coffee bean, flowers, oak, smoke and black cherry notes are the best part of the wine. While sweet, round and well made from a blend of 50% Cabernet Sauvignon, 35% Merlot, 9% Cabernet Franc and 6% Petit Verdot, in the end, the wine lacks that extra special something.

90

points - Tasted

Feb 13, 2013

855 Views

2009 Château Kirwan

The blend of 57% Cabernet Sauvignon, 17% Merlot and equal parts Petit Verdot and Cabernet Franc produced a wine that opens with licorice, cocoa, smoke and aromas of fresh dark berries. The medium/full bodied, wine ends with chocolate covered, black raspberries.

91

points - Tasted

Feb 1, 2012

3006 Views

2008 Château Kirwan

This wine opens with floral cassis, earth and spice aromatics. The elegant, already open Margaux, combines cassis and cherry flavors in the finish.

90

points - Tasted

Jan 28, 2011

3611 Views

08 Château Kirwan sported a lot of color and body; but while the wine was certainly well made, it lacked the level of complexity found in the 05. 86-89 Pts

87

points - Tasted

Aug 31, 2009

3668 Views

2005 Château Kirwan

Still deeply colored with licorice, espresso, cassis, blackberries and earthy scents, this round textured, flashy, Margaux wine needs at least another 5 years before it moves into its prime time drinking stage.

90

points - Tasted

Jul 25, 2011

5989 Views

2004 Château Kirwan

Coffee, licorice, spicy black cherry jam and earthy scents open up the wine. Tannic and sturdy in nature, the wine needs at least a few more years before it beings to soften and open up.

90

points - Tasted

Sep 25, 2011

3976 Views

2003 Château Kirwan

Licorice, smoke, coffee, juicy black plums and jam make up the fun perfume. Fleshy, soft and round in texture, the wine ends with a black licorice and blackberry liqueur infused finish. This is drinking well now and should continue to improve for at least another 10-15 more years.

91

points - Tasted

Dec 7, 2011

3520 Views

Licorice, coffee, floral, plum, damp earth and cassis scents pop from the still deeply colored wine. With rich, fat, round textures and a sweet, ripe, licorice, chocolate and jammy plum tinged finish, this fleshy, opulent Margaux wine is already is starting to drink well.

91

points - Tasted

Sep 20, 2011

3406 Views

2000 Château Kirwan

Black fruit and licorice filled perfume pairs well with soft textures and reasonable concentration, but lacks excitement.

88

points - Tasted

Mar 5, 2010

5696 Views