Chateau Branon Graves, Pessac Leognan, Bordeaux wine producer profile, with wine tasting notes, wine ratings, a history of the property, information on wine making and terroir, along with wine tasting reviews. If you want to read about other important, Bordeaux Chateaux: Links to all Bordeaux Wine Producer Profiles
While the concept of making a special cuvee is fairly recent, especially in Pessac Leognan, Chateau has a long history in the Graves appellation of Bordeaux. In fact, Chateau Branon dates back to the 18th century. The property is located in Leognan. The vineyards of Branon are planted in a gravelley terroir on a slope that is situated between Chateau Haut Bailly and Chateau Malartic Lagraviere. The Bordeaux wine vineyards of Chateau Branon have the advantage of their south and south west exposure, allowing the vines to receive ample sun.
Chateau Branon was in a dilapidated state of affairs when it was purchased by Sylvaine Garcin-Cathiard in 1996. The estate is managed by Helene Garcin. Since the Cathiard family purchased Branon, the vineyards and wine making facilities have all been renovated and brought up to date.
The 6.5 hectare Bordeaux vineyard of Chateau Branon has a terroir of clay and gravel soil. It's planted to an even split with its 50% Merlot and 50 % Cabernet Sauvignon cepage. On average, the vines of Chateau Branon are close to 35 years of age. At Chateau Branon, malolactic fermentation is performed in barrel. The wines are aged in 100% new, French oak barrels. Production is tiny. Only 6,000 bottles of Chateau Branon are produced every year.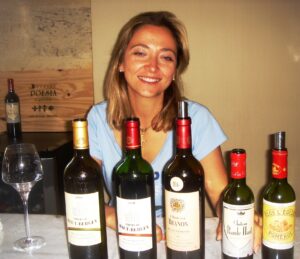 The style of Chateau Branon is lush, sexy and rich. There is a great purity of fruit and ample complexity in the flavors in this modern styled Bordeaux wine.  With bottle age, the wines of Chateau Branon add softeness and complexity. For quality at this level, coupled with a very small production, Chateau Branon remains fairly priced.
Wine Tasting Notes
Displaying 6 vintages | 17717 Views Sorted by vintage
2012 Château Branon

With smoke, spice, incense, earth and ripe dark berries, the wine is soft, polished, oaky and silky. Filled with dark chocolate-covered berries, it ends in an oak-filled, spicy finish. 90-92 Pts

91

points - Tasted

Apr 25, 2013

289 Views

2010 Château Branon

Silky, soft, sexy and packed with vanilla, oak, smoke, blackberries, licorice and chocolate, the wine is lush, sweet and complex. If the wine integrates into the wine, and I think it will, this will become a more compelling wine than it already is. Clearly, this is a modern Pessac Leognan, but I love it!

95

points - Tasted

May 7, 2013

285 Views

Branon Using a blend of 50% Merlot, 25% Cabernet Franc and 25% Cabernet Sauvignon, this 500 case wine reached 14% alcohol. Scents of coffee bean, truffle, tobacco and jammy blackberry meld with a big, sweet, ripe, long, smoky, jammy berry, mocha infused, sultry textured finish. 93-96 Pts

95

points - Tasted

Apr 21, 2011

1744 Views

2009 Château Branon

2009 Branon is deep ruby with purple accents. The wine shows truffle, tobacco, cassis, caramel, and coffee notes in the nose. The palate enjoys the feeling of rich, opulent, fleshy blackberries being draped across it. The wine has a concentrated, sweet berry finish. On average, only 500 cases a year are produced of this wine. 94-96 Pts

96

points - Tasted

Aug 26, 2010

3567 Views

2008 Château Branon

The wine offers a smoke,espresso, blackberry, licorice, tobacco, cocoa and black raspberry filled perfume. From a blend of 60% Merlot and 40% Cabernet Franc, the wine is soft, round and supple textured, but it lacks the density found in the better vintages of this small production, Pessac Leognan wine.

92

points - Tasted

Dec 5, 2011

1818 Views

2005 Château Branon

With its deep ruby color, this scarce wine offers a nose of black raspberry, coffee, earth, smoker and fresh herbs. This supple wine is concentrated with juicy, ripe fruit and spice. Produced in a sexy, ripe style, the wine finishes with chocolate covered berries. This is a polished and opulent Bordeaux. Only 500 cases are produced.

94

points - Tasted

Jun 15, 2008

3386 Views

2000 Château Branon

Still dark in color, with a young nose, the wine remains primary. Rich, supple, ripe and long, there is a lot going on with this modern style of Pessac Leognan. I'd give it another 3-5 years.

94

points - Tasted

Feb 27, 2013

629 Views

Licorice, caramel, smoke, chocolate covered boysenberries and truffle scents open to a fat, dense, low acid, fleshy, opulent wine that delivers a lot of pleasure. While this is wonderful to drink today, another 3-5 years should bring out more secondary characteristics. The wine is modern in style and sexy in an obvious way. But that's a good thing. There are times when you just want to get right down to it.

94

points - Tasted

Dec 6, 2012

711 Views

Tobacco, cigar box, cassis, chocolate, boysenberry, earth and truffle scents are found as soon as the wine slips in your glass. Your palate enjoys layers of sweet, juicy, cassis, mocha and fresh black, with a hint of oak and flashy textures. This is drinking great today and should continue to get better for at least the next decade.

95

points - Tasted

Feb 7, 2011

1819 Views

With its jammy black fruit, oak and licorice filled nose is plush, rich, polished and intense. This is a very suave, stylish style of wine.

94

points - Tasted

Mar 5, 2010

1760 Views

Smoke, cassis, coffee, chocolate and a hint of oak make the aromatics. Very concentrated, rich and complex. Full bodied with an opulent texture and a sexy style. Very little of this wine is made. If you see it, grab a bottle. 05 is also a great wine and the 08 looks tasty as well.

95

points - Tasted

May 5, 2009

1709 Views