2011 Bordeaux Wine Barrel Tasting Notes
,
Feature Articles
— By
Jeff Leve
on April 10, 2012 at 1:05 am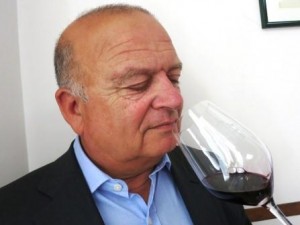 For a detailed look at the growing 2011 growring season and harvest at Leoville Poyferre in St. Julien: 2011 Bordeaux Harvest Leoville Poyferre, Winemakers Vintage
2011 Leoville Poyferre From an assemblage of 58% Cabernet Sauvignon, 30% Merlot, 6% Petit Verdot and an equal amount of Cabernet Franc, the wine reached 13.7% alcohol.  The Grand Vin represents 55% of the harvest. With good color, the wine opens with coffee, earth, black raspberry and cassis. Medium-bodied, tannic, bright and fresh, there is a brawny personality in the crisp boysenberry, cassis and tannic finish. 2011 Leoville Poyferre will not be fun to drink young. It will require a lot of time before it softens and comes around. 91-93 Pts
.
Jeff Leve What did you need to do to produce a good 2011 Leoville Poyferre this year?
.
Didier Cuvelier "Strong vineyard management was the key to success with 2011 Leoville Poyferre.  The wines are made in the vineyards".
.
Jeff Leve Specifically, what did you do that was different in this difficult vintage for the 2011 Leoville Poyferre?
.
Didier Cuvelier "We continued our  practice of no green harvesting.  Part of what the difference for this year was that we deleafed two times".
.
Jeff Leve Why did you deleaf twice for the 2011 Leoville Poyferre?
.
Didier Cuvelier "We needed to avoid rot.  We deleafed once in July and again just before the harvest."
.
Jeff Leve Did you use optical sorting at Leoville Poyferre?
.
Didier Cuvelier " The use of optical sorting was a huge help with our 2011 Leoville Poyferre. It really helped with the difficulty in sorting the berries that were arriving in multiple stages of maturity".
.
Jeff Leve For your own taste, what other vintage does the 2011 Leoville Poyferre remind you of?
Didier Cuvelier "I think 2011 Leoville Poyferre is like a  better version of 2008".