2011 Bordeaux Wine Barrel Tasting Notes
,
Feature Articles
— By
Jeff Leve
on April 3, 2012 at 11:29 am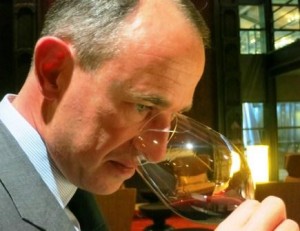 2011 Cos D'Estournel Blending 65% Cabernet Sauvignon with 33% Merlot and a dollop of Petit Verdot, the wine represents 36% of the production. To achieve the highest level of quality for the Grand Vin, the estate reserved more fruit for Pagodes de Cos than usual. This is the smallest amount of Cos produced since 1991. With a nose of Asian spice, black cherry liqueur, smoke, gravel, earth, truffle, vanilla and fennel, this refined, pure, fresh cassis, filled wine ends with clean, spicy, cassis and blackberry in the finish. 93-95 Pts
.
2011 Les Pagodes de Cos, the second wine of  2011 Cos d'Estournel is made from 70% Cabernet Sauvignon and 30% Merlot. Earth, spice and black cherry scents, medium body and a fresh, plum and cherry finish are found in this wine. 88-90 Pts
.
2011 Cos Blanc is blended from 67% Sauvignon Blanc and 33% Semillon. Production has recently increased to 500 cases, which is about double the previous level production. With a cloudy appearance, this unfiltered wine opens with lemon, lime, grapefruit and stone aromas. Fresh citrus, pineapple, nut and apple are found in the long finish. 92-94 Pts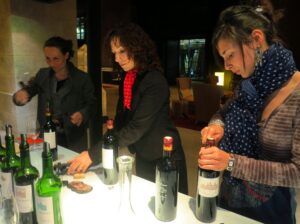 .
Jeff Leve With a difficult growing season like 2011, what was the main benefit for you with your gravity cellars in producing 2011 Cos d'Estournel?
.
Jean Guillaume Prats "The use of the gravity, coupled with the ability to quickly cool down the grapes, which retards oxidation, allowed the fruit to maintain maximum aromatic freshness. Due to the fragile condition of the fruit in this vintage, the ability to handle the grapes as little as possible allowed us to achieve purity and definition in the 2011 Cos d'Estournel wine".
.
Jeff Leve Did the September hail storm force you to pick earlier than you liked for the 2011 Cos d'Estournel?
.
Jean Guillaume Prats "Yes. We harvested 5 days earlier than we originally anticipated with the 2011 Cos d'Estournel."
.
Jeff Leve How did harvesting earlier change the character of the wine. Could you have waited longer to make a riper 2011 Cos d'Estournel?
Jean Guillaume Prats "Waiting the additional time might not have made any difference. What happened was during those days, the weather was cool, humid and lacked sunshine. The fruit might not have obtained more development this year when thinking about 2011 Cos d'Estournel".
.
Jeff Leve Does that make the 2011 Cos d'Estournel the earliest harvest on record for Cos d'Estournel?
.
Jean Guillaume Prats "You have to go all the way back to 1893 to find an earlier harvest!"
.
Jeff Leve Were you surprised that you picked your Cabernet Sauvignon before your Merlot this year?
.
Jean Guillaume Prats "Even though it was only by one day, this was the first time we harvested the Cabernet before Merlot".
.
Jeff Leve How much sorting did you need to do with 2011 Cos d'Estournel?
.
Jean Guillaume Prats "The big difference in sorting 2011 Cos d'Estournel versus other recent vintages is in 2011, entire parcels were deselected. The Merlot on gravel soils were also deselected as well as much of the Cabernet Sauvignon from vines that were under the age of 30. The last time we had this little wine was in 1991".
.
Jeff Leve Why did you decide to show your 2011 Cos d'Estournel white wine for the first time during the April tastings this year?
.
Jean Guillaume Prats "Production is up to about 6,000 bottles.  With enough wine to sell, it makes sense to show it to the trade".
Even though I was able to retaste 2009 Cos d'Estournel in Los Angeles in bottle a few weeks ago, it did not take much coaxing to to get me to try it again.
2009 Cos d'Estournel – Shiny ink in color with purple edges, with only a splash decanting, the perfume explodes with a drawer full of spices,  smoke, coffee bean, incense, truffle, blackberry, blue fruit, vanilla, clay, earth and liqueur scents. Intense, the wine is  packed and stacked with flavor. Powerful, pure and mouth filling, the wine coats your palate with layers of pure black and blue fruit, licorice and spice. This wine offers a beautiful expression pure fruit, balance, harmony and perfectly ripe tannins.  The wine has changed since it was first tasted in barrel.  The layers of baby fat have morphed into a beautiful, complicated wine. 100 Pts
2009 Pagodes de Cos – Earth, cassis, blackberry and spice scents open to a medium bodied, fresh, cassis and spice filled wine that would compete with many better-known, more expensive classified growths in a blind tasting. 93 Pts