2009 Bordeaux Wine In Bottle Tasting Notes, Ratings, Reviews
,
Feature Articles
— By
Jeff Leve
on January 30, 2012 at 7:09 am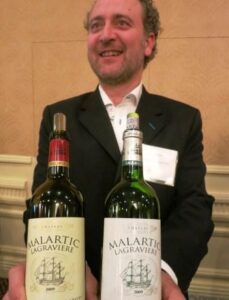 2009 Pessac Leognan enjoyed a successful vintage in 2009 for both the red and white wines. Although, the red 2009 Pessac Leognan wines seem to offer more freshness and lift. At their best, 2009 Pessac Leognan wines combine opulent textures, smokey aromatics, ripe fruit and soft tannins. From top to bottom, it's easy to find quality throughout the appellation. In fact, some of the better Bordeaux value wines come from 2009 Pessac Leognan wine.
2009 Pessac Leognan Red and 2009 Pessac Leognan White Bordeaux Wines
2009 Carbonnieux – Smoke, earth and black cherry scents lead to a soft, medium bodied, crowd pleasing style of Pessac Leognan that will drink well early. 89 Pts
2009 Domaine de Chevalier – Cherry pipe tobacco, smoke, licorice and plum notes create the perfume. In the mouth, the wine is rich, plush and round with a chocolate covered, fresh blackberry finish. 93 Pts
2009 Domaine de Chevalier Blanc – Fresh lemon, green apple, grapefruit, floral, spice and tropical fruit aromas combine with fleshy textures, concentration of flavor and minerality ending with a long, creamy sensation filled with ripe, fleshy, citrus fruits. 94 Pts
2009 de Fieuzal – Coffee, vanilla, licorice and black cherry scents are easy to find. From a blend of 55% Merlot and 45% Cabernet Sauvignon, the soft textured wine finishes with vanilla and fresh plums. 90 Pts
2009 Haut Bailly – This has firmed up, added more structure and lost some of its opulent, exotic nature over the past two years. That is not to take away anything from the wine. But the blend of 60% Cabernet Sauvignon, 37% Merlot and 3% Cabernet Franc has evolved into a wine that requires more aging than I had originally anticipated. Deep in color, scents of burning wood, licorice, cassis, earth and herbs meld well with the layers of pure, concentrated fruit. The wine ends with a long, fresh black raspberry sensation. This strong wine has everything needed to age and develop well. With time, it's quite possible my score will go up a point or two. 95 Pts
2009 Haut Bergey – Smoke, coffee, licorice, black plums, dark cherry and fresh cut herb aromas add to the soft, plush, round textured wine. The vanilla, black cherry finish is already a treat to taste. This will deliver pleasure young. 91 Pts
2009 Larrivet Haut Brion – From an assemblage of 70% Cabernet Sauvignon and 30% Merlot, the wine opens with scents of oak, cassis and red berries. Medium bodied, with some dryness in the tannins, this will need time before it becomes fun to drink. 89 Pts
2009 Latour Martillac – Smoke, truffle, black cherry aromatics are on display. With sensuous, round textures and a smoky, dark berry, spice and cherry finish, this is perhaps the best example of Latour Martillac I recall tasting. At close to $30, this is an outstanding Bordeaux wine value! 91 Pts
2009 Malartic Lagraviere – Deep in color, it requires little effort to find the truffle, tobacco, smoke and dark cherry aromatics. Sensuous in texture, this lush wine offers freshness, concentration and a long, deep, multi-layered finish. 93 Pts
2009 Malartic Lagraviere Blanc – With strong notes of citrus oil, lemon wax, apples and spice, the wine combines rich textures and freshness that ends with a mineral driven, lemon wax finish. 93 Pts
2009 Olivier – Wood, pepper, floral and red fruit aromas, medium in body with some dryness in the tannins is what you'll find in this wine. 88 Pts
2009 Pape Clement – The famous property continues to dial back their wine making, Where some recent vintages could be described as a bit much, this is a strong, balanced effort. With smoke, licorice, coffee bean, blackberry and chocolate aromas, Rich, dense and packed with layers of juicy, ripe fruit, this sexy wine ends with a long, lush finish 95 Pts
2009 Smith Haut Lafitte – This is a property on a roll. Using slightly less oak has allowed more freshness and purity to shine through. Licorice, chocolate, juicy black plum liqueur and espresso scents create the perfume. There is a beautiful sensation of pure, rich fruit, freshness and sensuous textures. It's a step up from every previous vintage produced by the Cathiard's and Fabien Teitgen. As hard as it is to believe, their 2010 could be even better! 96 Pts
2009 Smith Haut Lafitte Blanc – Opening with strong sensations of pineapple, green apple, melon and stone, this assemblage of 90% Sauvignon Blanc, 5% Semillon and 5% Sauvignon Gris creates a concentrated, rich, fresh, long, citrus and vanilla finish. 94 Pts