Feature Articles
,
Wine and Food Pairing
— By
Jeff Leve
on September 21, 2010 at 7:18 pm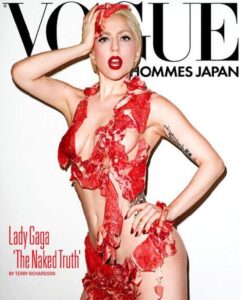 We've all tried a myriad of interesting food and wine pairings over the years. Some have worked better than others and I must admit, a few have not turned out to be very good. Generally speaking, red wine often pairs best with beef. Especially when it's red Bordeuax wine. Yet, looking over this picture of Lady Ga Ga in her all meat dress, I am not sure what would be the perfect pairing?
What do you think? Would a Bordeaux wine work best? Perhaps a young wine from California, or a wild Chateauneuf du Pape? Your comments are welcome and encouraged…