Bordeaux Wine 2009 Barrel Tasting Notes
,
Feature Articles
— By
Jeff Leve
on July 3, 2010 at 8:13 pm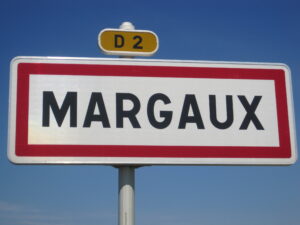 Margaux was a very successful appellation in 2009. Some properties produced what might become the best wine in their history.
I should have more time to write and post tomorrow as it's Sunday in St. Emilion.
This should keep you busy until tomorrow.
2009 L'Aura Opens with dark colors and aromas of fresh blackberry flavors, full bodied and round, this Bordeaux wine ends with ripe dark fruit and black pepper aromatics. 91/93 Pts
2009 Brane Cantenac  shows ample fresh, dark berries, anise, forest, spice and wood aromas.  This elegant, supple Bordeaux wine ends with fresh dark fruit, licorice and black cherry flavors.  This is my favorite vintage of Brane Cantenac. 91/93 Pts
2009 Cambon La Pelouse is medium bodied with cassis and strawberry flavors and ends in with a slight drying finish. 83/85 Pts
2009 d'Issan with its earthy, blackberry, cassis, licorice and forest aromas smells enticing. Full bodied, silky and opulent for d'Issan, this wine has ample structure to age, round tannins and finishes with sweet dark fruits. This is could be the best Bordeaux wine d'Issan has ever produced! 93/94 Pts
2009 Durfort Vivens shows a medium ruby color. Blackberry and cassis scents are in the nose of this medium bodied wine.  While fresh, with attractive flavors, the wine lacks concentration and structure. This should drink well young. 88/90 Pts
2009 Giscours shows cassis, coco, espresso, citrus and black raspberry in the nose. Full bodied with ripe tannins, the wine finishes with sweet black raspberry and chocolate notes. This is the finest Giscours I have ever tasted. From what Alexander Van Beek is saying, I expect things will continue to improve at this Bordeaux wine estate. 91/93 Pts
2009 Malescot is inky black in color. Fresh, dark, ripe, blackberry, cassis and plums with licorice and bitter chocolate explode from the glass.  This is a fat, sexy, rich, flamboyant and intense style of Bordeaux wine that coats your mouth and leaves you with sensations of blueberry, licorice, black raspberry and spice flavors. 95/98 Pts
2009 Chateau Margaux pops from the glass with spice, incense, espresso, cassis and juicy, ripe dark berries. Full bodied and intense, according to Paul Pontallier, the wine is more tannic than 05 as well as 86!  The tannin is or alcohol is never felt due to the amount of concentrated ripe sweet fruit.  This exciting Bordeaux wine finishes with a purity and essence of fresh, ripe, cassis and dark berries. 98-100 Pts
2009 Pavillon Rouge shows floral, dark berry aromatics. The wine is round, soft and mouth filling and carries through in the finish.  This is the best Pavillon Rouge I have ever tasted.  The wine is better than any Margaux made in the 60's and 70's.  It's also better than some vintages of the 90's that are well thought of, like 94.  90-93 Pts
2009 Palmer is dark in color.  Liqueur of ripe dark berries, wood, Asian spice, cassis and floral scents fill the perfume. Opulent, polished and elegant, this rich, concentrated wine is pure silk and velvet. This Bordeaux wine finishes with velvet laced, black raspberries with ample freshness. 95/98 Pts
2009 Alter Ego, the property does not consider this the second wine of Palmer.  They treat it as a unique wine with its own fruit source and different blend.  Black raspberry, anise and spice introduce this supple wine to your nose, followed by a fresh dark cherry and kirsch filled finish.  90/92 Pts
2009 Prieure Lichine offers floral, licorice, cassis and plum aromas.  Rich, ripe and full bodied, the wine ends in fresh, cassis, plum and dark berry flavors.  90-92 Pts
2009 Rauzan Segla is deep ruby in color. The perfume offers jammy blackberry, fudge, fennel, earth, spice and floral notes.  Full bodied with a rich texture, round tannins and structure to age, this sublime Bordeaux wine ends with long, pure, sensations of sweet, fresh picked berries. 94/96 Pts
2009 du Tertre opens with cassis, leaves, vanilla, herbs and pepper notes. Medium to full bodied, the blackberry and cherry finish shows a lot of fresh cracked pepper notes. 88/90 Pts
Tags: Bordeaux 2010